El tributo reunió a figuras del rock y el pop de manera totalmente transversal
Taylor Hawkins Tribute Concert, evento musical que conmemorará la memoria del fallecido baterista de Foo Fighters con múltiples invitados.
Como indica el periodista Emilio Contreras de www.biobiochile.cl , Dave Grohl, líder de la banda estadounidense, fue el encargado de dar la bienvenida a los asistentes: "Esta noche estamos aquí para celebrar la vida, la música y el amor de nuestro amigo y hermano Taylor Hawkins", dijo evidentemente emocionado tras recibir una ovación del estadio.
Dirigido por Joel Gallen y bajo la producción de Emer Patten, el festival tendrá no sólo a los excompañeros del músico, sino también a artistas como Liam Gallagher, Geddy Lee y Alex Lifeson (Rush), Roger Taylor y Brian May (Queen), Stewart Copeland (The Police), Chris Chaney (Jane's Addiction), Joshua Homme (Queens of the Stone Age) y Chrissie Hynde (The Pretenders), entre otros.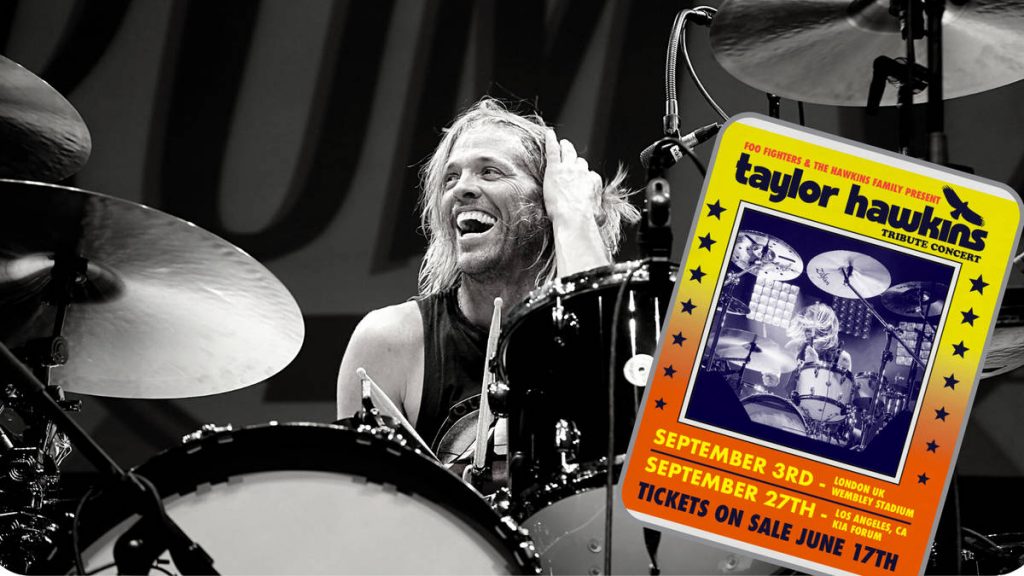 A ellos se sumará el comediante Dave Chappelle, Supergrass, Mark Ronson, Wolfgang Van Halen, Omar Hakim y miembros de la banda de covers de Hawkins, Chevy Metal.
Si bien por estas horas se lleva a cabo una transmisión vía streaming para los suscriptores de Paramount+, el encuentro también está siendo transmitido por YouTube mediante una de las señales de MTV.
Para los suscriptores latinoamericanos de la plataforma de streaming, el concierto estará disponible en formato on-demand a partir de este domingo 4 de septiembre.
La cita, organizada por la familia Hawkins en alianza con Foo Fighters, pretende honrar "la memoria y la música de una leyenda del rock en todo el mundo", además de reunir fondos para las organizaciones Music Support y Music Cares dedicadas al cuidado de la salud mental.
EL SET LIST Y LOS INVITADOS
A continuación te dejamos el listado de artistas y canciones que se esogieron para este significativo encuentro
Liam Gallagher e Foo Fighters
Rock 'n' Roll Star (cover de Oasis)
Live Forever (cover de Oasis)
Nile Rodgers, Chris Chaney y Omar Hakim
Let's Dance (cover de David Bowie con Josh Homme)
Modern Love (cover de David Bowie con Gaz Coombes)
Chevy Metal
Psycho Killer (cover de Talking Heads)
Children of the Revolution (cover de T. Rex com Kesha)
Justin Hawkins, Josh Freese y The Coattail Riders
Louise (cover de Taylor Hawkins & The Coattail Riders)
Range Rover Bitch (cover de Taylor Hawkins)
It's Over (cover de Taylor Hawkins & The Coattail Riders)
Justin Hawkins, Wolfgang Van Halen, Dave Grohl y Josh Freese
On Fire (cover de Van Halen)
Hot for Teacher (cover de Van Halen)
Violet Grohl, Dave Grohl, Alain Johannes, Chris Chaney, Greg Kurstin y Jason Falkner
Last Goodbye (cover de Jeff Buckley)
Grace (cover de Jeff Buckley)
Supergrass
Richard III (cover de Supergrass)
Alright (cover de Supergrass)
Caught by the Fuzz (cover de Supergrass)
Them Crooked Vultures
Goodbye Yellow Brick Road (cover de Elton John)
Gunman (cover de Them Crooked Vultures)
Long Slow Goodbye (cover de Queens of the Stone Age cover)
Pretenders e Dave Grohl
Precious (cover de Pretenders)
Sweet Caroline (cover de Neil Diamond)
Tattooed Love Boys (cover de Pretenders)
Brass in Pocket (cover de Pretenders)
James Gang
Walk Away
The Bomber: Closet Queen / Bolero / Cast Your Fate to the Wind
Funk #49 (com Dave Grohl)
Violet Grohl, Mark Ronson, Chris Chaney e Jason Falkner
Valerie (cover de The Zutons)
Brian Johnson + Lars Ulrich + Foo Fighters
Back in Black (cover de AC/DC cover)
Let There Be Rock (cover de AC/DC)
Stewart Copeland e Foo Fighters
Next to You (cover de The Police)
Every Little Thing She Does Is Magic (cover de The Police con Gaz Coombes)
Geddy Lee e Alex Lifeson (Rush)
2112 Part I: Overture (cover de Rush con Dave Grohl)
Working Man (cover de Rush con Dave Grohl)
YYZ (cover de Rush con Omar Hakim)
Brian May, Roger Taylor, Rufus Taylor y Foo Fighters
We Will Rock You (cover de Queen con Luke Spiller)
I'm in Love With My Car (cover de Queen)
Under Pressure (cover de Queen con Justin Hawkins)
Somebody to Love (cover de Queen con Sam Ryder)
Love of My Life (cover de Queen y Brian May)
Foo Fighters e invitados
Times Like These (con Josh Freese)
All My Life (con Josh Freese)
The Pretender (con Travis Barker)
Monkey Wrench (con Travis Barker)
Learn to Fly (con Nandi Bushell)
These Days (con Rufus Tiger Taylor)
Best of You (con Rufus Tiger Taylor)
Oh! Darling (cover de Beatles con Paul McCartney, Chrissie Hynde y Omar Hakim)
Helter Skelter (cover de Beatles con Paul McCartney y Omar Hakim)
Aurora (con Omar Hakim)
My Hero (con Shane Hawkins)
Everlong (solamente Dave Grohl)